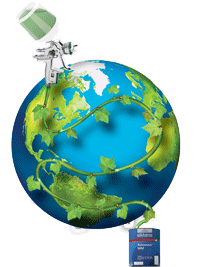 At Parkway Auto Body We are proud to be one of Houston's first collision repair center to equip our facilities with water-based automotive paint. This technology reduces emission of volatile organic compounds (VOC's) by as much as 75%, making it environmentally more responsible and also much safer for our employees.
Parkway Auto Body Center rose to meet the guidelines put in place by the EPA for compliance by 2016 to lower the volume of air pollution released by car paints in the US. This is because even if modern paints like enamels or urethanes do not dry up through evaporation, they release VOC, This happens during the atomization of the paint at the spray gun's tip as well as during the curing time.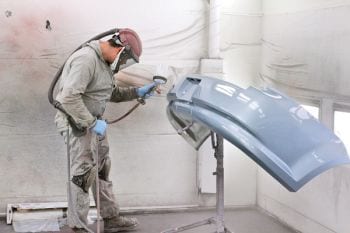 These VOCs are allegedly among the reasons there are holes appearing in the ozone layer. They are also known to cause brain deterioration, poor math scores, confusion, famines, plagues and other disasters of nature. Essentially, most of the paint ingredients are harmful to both Houston and Texas! Water-based paints are the future of automotive coatings. All automotive paint manufacturers are working on this technology and have already released water-based products into both the OEM and refinishing markets. The transition from solvent-based paints, such as urethanes, to water-based is a powerful tool to saving money which Parkway passes onto the consumer.
Over the next five years, our collision center will emit around a ton less Greenhouse Gases by using BASF's 90-Line, which helps to drastically reduce your carbon footprint. It's superior technology has convinced seventy percent of worldwide OEM car manufactures to use waterborne basecoat finishes; which means it's also your best choice when you have your car painted! Waterborne paints provide a smooth, durable, and long lasting finish.
For quality auto repair work and service that is environmentally friendly think Parkway Family!